Build deep, dynamic agent and customer relationships
Your customers expect VIP service, simple digital journeys and the freedom to engage with you on their own terms. Formerly known as Foehn, Kerv Experience has delivered market-leading cloud customer contact centre solutions for over 20 years. 
An established Genesys Cloud CX platform partner, our deep expertise helps you completely personalise customer experience, improve customer insights, reduce effort with seamless integrations and automation and to deliver amazing service when it matters most. Which is all of the time.
Kerv Difference
Helping you stay ahead by delivering exceptional CX to your customers through the deployment of cloud, digital and AI technologies, empowered people.
Genesys experts
Kerv Experience are the longest standing Genesys Cloud CX partner in EMEA with the most Genesys Cloud CX deployments. It is what we do. We pride ourselves on our people's expertise, our delighted customers and our multiple award recognition from Genesys.
Customer focus
Your CX is our CX. Great technology is only half the story. At Kerv Experience we focus on ensuring we intimately understand you business and CX operations to ensure we can deliver outcome focussed projects. When your customers are delighted, we are delighted.
Continuous improvement
Through our support services, management services and Customer Success practice we obsessively focus that our customers are always getting the greatest benefit from Genesys Cloud CX. As your business and priorities change, and as the technology evolves, Kerv Experience is here to help join the dots.
At a Glance
6000+
Contact centre agents using Genesys Cloud CX from Kerv Experience across 40+ customers
6
Genesys awards achieved by Kerv Experience in 6 years including EMEA Cloud Partner of the Year and Customer Success Partner of the Year
98%
CSAT levels from our customers following a Kerv Experience Genesys Cloud CX deployment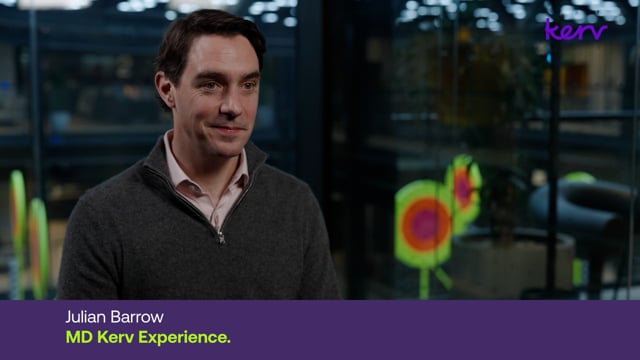 SERVICES WE DELIVER
Leading-edge solutions
Contact Centre as a Service (CCaaS)
Omnichannel and Digital
Offer customers greater choice and add email, chat, text and social channels at pace, without major investment. Proactively engage website and mobile app customers at exactly the right time.
Blended AI and automation
Release agents from unfulfilling, repetitive tasks and exploit data insights with chatbots, voicebots and automated workforce and case management.
Voice and compliance
Make hybrid workers more productive through top-quality telephony, seamless domestic and international routing, and simple PCI compliance, while also reducing providers and costs.
Support services
Boost internal knowledge and resources by tapping into Kerv Experience professional and technical services, de-risking your contact centre cloud migration and ongoing transformation.
Workforce engagement management
Ditch manual processes and spreadsheets and drive results and employee satisfaction with call and screen recording, speech and text analytics, and automated quality and resource management.
The services, tools and technology to enable you to provide exceptional customer experiences.
YOUR PARTNERS
Meet our team
Julian Barrow
Managing Director, Kerv Experience
Overseeing daily operations at Kerv Experience, Julian sets the strategic plan, enabling clients to digitally accelerate and achieve their CX ambitions for continued growth and profitability.
Jane Davison
Peoples Operations Manager, Kerv Experience
Expert at aligning departments & stakeholders united by common goals, Jane is an experienced HR and finance leader with a history of working with all types of firms in IT…
Braiden Woodward
Service Delivery Manager, Kerv Experience
With innate understanding of business priorities and a proactive work ethos, Braiden delivers bespoke client services in a timely manner, while contributing big process improvement insights. 
Gary Muchmore
Operations Director, Kerv Experience
Well versed in project management excellence, Gary and his team are why we already have 40+ successful Genesys Cloud CX migrations under our belt, more than any other Genesys EMEA…
Jas Bansal
Head of Marketing, Kerv Experience
A passionate, enthusiastic marketeer, Jas oversees the entire mix, driving new business and building client relationships through sales and marketing campaigns, events, PR, and more.
Looking for customer support?
FEATURED INSIGHTS
From our world to yours
"Kerv Experience created a hybrid solution so it was easy to re-route traffic and we didn't have to worry about complexities like quality of service and load balancing. We saved money by eliminating call diverts, then added chat and email to lower costs further still."
"Kerv's cloud and contact centre expertise proved invaluable in helping us to get the best out of Genesys Cloud. Their specialists helped design and align the solution with our processes and KPIs."
Our Practices
Meet our four unique practices
Each of our distinctive practices brings something completely different to the table. So, no matter your challenge – we have the team to get you ahead.
Known previously as DoubleEdge, engage with a partner who lives and breathes compliance to help keep you one step ahead with consistent and secure voice, data and mobile communications.
Discover more
By combining the collective expertise of Metaphor IT and UCNS, we focus on your unique business journey first. Then our best people build the transformational infrastructure that gets you there.
Discover more
Improve insights and customer experience between channels. Simplify journeys. Seamlessly integrate and automate. And deliver amazing service when it matters most with the cloud customer contact centre solutions formerly known as Foehn.
Discover more
Leveraging the ingenuity that's synonymous with cloudThing, we design beautiful digital experiences and automated processes to solve your trickiest problems.
Discover more
Supporting your digital transformation with innovative, secure, automated, and simple to manage network and security solutions for the data centre, branch office, and cloud.
Learn more
Speak to an expert
Give us a few details and we'll get right back to you.