< Back to all events
Unlock the Digital Potential of Your Organisation By Enabling a Technology Ecosystem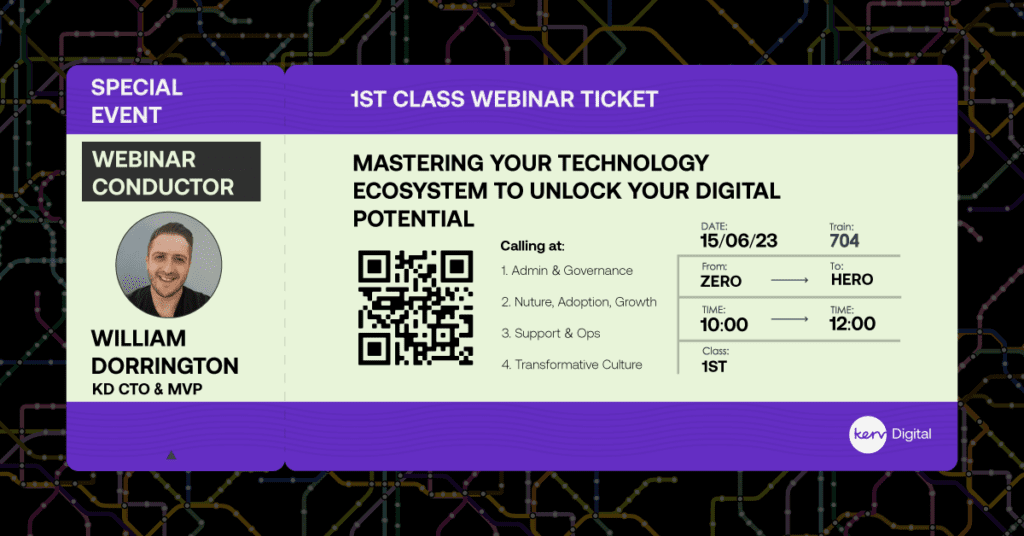 Date

Thu 15th June 2023

Time

10:00am - 12:00pm

Event Type

Webinar

Location

Teams Webinar
Technology is evolving faster than ever, and digital leaders are expected to keep up with the pace of change in fields such as A.I, automation, low-code app platforms, and criticial business platforms such as CRM and ERP. It can feel overwhelming for technology leaders to deliver results operationally, ensure proper governance and security, while fostering the adoption of innovative new technologies and approaches.
Buzzwords like "Centre of Excellence", "Solution Factories", "Rapid Application Development", and "Digital Transformation" can become interchangeable and cause confusion internally, and reduce buy-in from users to existing technology programmes.
Kerv Digital are experts in helping organisations achieve clarity on their long-term plans for technology by helping leaders to implement a sustainable long-term technology ecosystem across multiple areas of the organisation. Don't miss out on this valuable opportunity to learn from our CTO and Microsoft MVP William Dorrington as he discusses our best practice approach to large-scale Ecosystem Enablement. He will show you practical steps to take control of your technology ecosystem, including how to set up your Admin & Governance, Approach to Nurturing Adoption & Growth, and ongoing Support & Operations.
This webinar is the first in our new series of online workshops designed to help organizations cut through buzzwords to implement practical and measurable steps to take control of a potentially sprawling technology estate. We are incredibly excited to launch this series and help organizations like yours unlock your full potential.
Join William as we discuss:
Common challenges around technology strategies today
How to quickly understand where in your journey you are
How to get maximum value from large platforms such as Microsoft Power Platform
Key concepts to introducing an ecosystem such as Governance, Adoption and Support
How to visualise your ecosystem and track progress
Live demo of the potential of this approach to technology
Business benefits and generating organisation wide buy-in
This event promises to offer real insight for digital leaders looking to modernise their approach to innovating with the latest technologies. Register today to secure your space.
---
Speakers
Will Dorrington
Chief Technology Officer
Register now
"*" indicates required fields