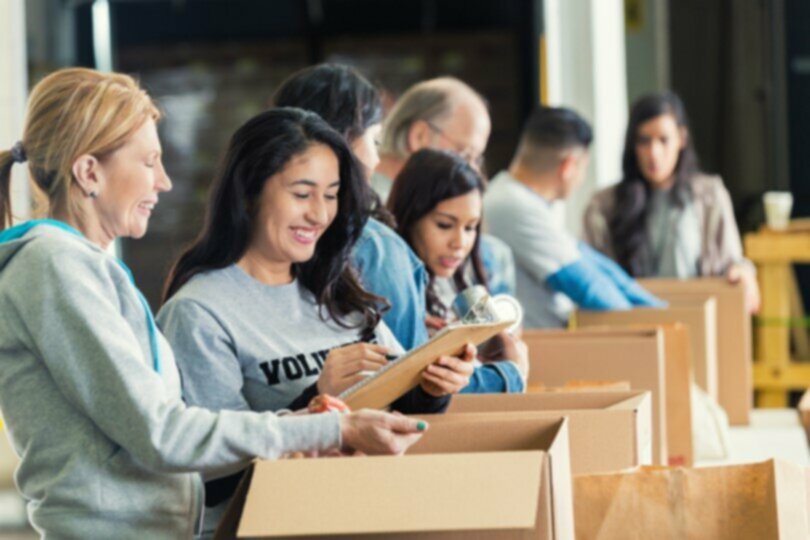 What's The Best CRM For The NonProfit Sector?
James Crossland
Digital Marketing Manager|Kerv digital
Published 06/07/22 under:
Microsoft Dynamics 365 CRM Competitor Comparison
Engage new, existing and old donors, build relationships, process donations and manage analytics quickly, efficiently and cheaply
It's no a secret there isn't a NonProfit out there that can effectively promote their chosen cause without a decent CRM system to manage their donor pipeline and fundraising efforts.
The adoption of cloud-based technology around the globe, with its ever increasing numbers of apps, features, integrations, and bespoke solutions means there's almost nothing a modern NonProfit can't do when backed up by a modern CRM.
But that's the nub of the question isn't it… what's the right CRM for your NonProfit?
A CRM needs to work hard for a charity, leveraging new and existing relationships, amplifying fundraising efforts, keeping everything compliant… all whilst reducing donor churn.
With so many different moving pieces, many of which will need a high level of AI and/or robotic process automation to be truly successful… That's a big ask for any CRM!
What Should A NonProfit CRM Be Able To Do?
It's not easy operating in the NonProfit sector these days.
The days of being able to just round up some volunteers and station them outside a supermarket with a collection bucket are long gone.
A modern NonProfit needs to be able to, in a single view, be able to consider its fundraising channels (that hasn't changed at least), organise, manage and engage with it's volunteers to keep them motivated, interact with potential, current and ex donors, liaise with third party partners and persuade media outlets to run (positive) stories about your organisation and cause… all of this in a time of tightening budgets, stifling regulatory oversight, decreased donation levels and a greater need than ever for your NonProfits support.
That means building lasting, long-term relationships with all of the above individuals, businesses and organisations isn't just a 'would-be-nice' anymore; it's absolutely essential to achieve your goals.
Whilst the day to day business of a charity might differ (community outreach or support, advocacy, research, activism, etc) all have one thing in common… They're all dependant on charitable contributions for their operating budgets.
That's why the core functions of a NonProfit CRM system must focus on donor management. That doesn't mean however that it won't be called upon to also perform a lot of other functions.
The good news however is that thanks to data driven technology, layering automation tools over CRM tasks has never been cheaper or easier.
But what exactly should a NonProfit CRM be able to do?
Key Features Of A NonProfit CRM System
CRM software has changed a lot recently and the right CRM can give a NonProfit a real competitive edge in a tough market.
If you're on the look out for a new CRM, looking to upgrade/replace an existing system or worried about vendor lock-in then below is just a few of the tools you should be on the lookout for…
REDUCING DONOR CHURN
Retaining existing donors by minimising donor churn is often an uphill battle for the NonProfit sector.
Donors need to feel appreciated; they need to know their contribution is making a difference and they need to be told so frequently.
That means a key feature of your CRM needs to be to keep them updated as to what their donation is doing for the cause, what's happening withing your organisation and what context it's happening in in the wider world.
Any NonProfit CRM worth it's salt then must include pledge marketing, multi-channel communications, marketing automation and social media integration.
RELATIONSHIP MANAGEMENT
Perhaps the most important aspect of any CRM system, this one is especially important for NonProfits.
Any system you finally settle on should offer you a high degree of personalisation and segmentation to keep your donors engaged (and donating) with the ability to combine that with a high degree of automation (so that engagement can happen automatically when certain actions or events are triggered rather than your staff having to do it all manually for thousands of donors).
MARKETING CAMPAIGNS
We wont spend time explaining why marketing campaigns are important in promoting your organisation but we will point out that any CRM you settle on should have a built in Marketing Campaign functions with multiple, pre-built templates to save your staff hours of time designing everything from scratch whilst simultaneously automating different campaigns to different segments of your database.
DONATION FINANCE
Hopefully your organisation receives a lot of donations which also enables them to claim thousands of pounds in Gift Aid. Those two things though can be very labour intensive.
A good CRM then should have multiple, flexible donation methods to make it as easy as possible for your donors to support you, with integrated credit/debit card processing capabilities.
It should also be able to automate the processing of Gift Aid to cut down on errors on your submissions.
Depending on the amount of donations you take, integrated accounting and budgeting features might also prove useful to you.
EVENT MANAGEMENT
You might find the thought of planning real world events digitally slightly incongruous but if 2020 has taught us anything it's the power of online events!
Either way, online or in real life, good CRM systems should include software management tools that will let your NonProfit schedule their events, invite and manage attendees, create seating plans, track who's coming and who needs following up and most importantly allow your team to access this information on the go, at events through mobile devices.
BUSINESS INTELLIGENCE TOOLS
Your traditional CRM's have always been great at collecting large amounts of data and business intelligence. What they've not always been great at is being able to do anything with that information.
When you're looking at which CRM suits your NonProfit best, make sure you settle on one that can segment, analyse and report on information with ease.
It also helps if the CRM allows you to layer AI integrations over those intelligence reports which will allow you to automate reports, plan ahead and garner in-depth business insights and draw connections you might otherwise not have been aware of.
The Top 8 NonProfit CRM's Available Today
MICROSOFT DYNAMICS 365 FOR NONPROFITS
We'll start with Microsoft Dynamics 365 as the majority of the NonProfit sector consider it the best charity CRM available on the market (with good reason).
It's simple to learn, easy to download, great as an Out-the-Box solution but can also be customised to do almost anything you might require, including integrate with third party applications and services.
It also integrates seamlessly with Microsoft Office and Outlook which the vast majority of both the private and commercial sector operate on. That seamless integration with Office (in this case Excel) also makes Dynamics reporting second to none. Its Business Intelligence tools allow you to drill down and parse data better than any other platform currently on the market, which is easily automatable to create regular reports with charts and graphs that can detect new trends at a glance.
As it's Microsoft your staff will be inherently familiar with it and with the drive towards citizen developers and low code/no code software your staff will easily be able to create their own applications.
SALESFORCE FOR NONPROFITS
'Salesforce for NonProfits' is their dedicated charity CRM offering.
Traditionally, Salesforce is considered one of Microsoft Dynamics main competitors for enterprise level organisations but for the NonProfit sector a pared down version is available for free for up to ten users. This makes it a good choice for smaller NonProfits who won't need a large amount of bespoke customisation (as this can then start pushing costs back up).
It's a cloud-based solution that focuses on inter-office collaboration, social media integrations, and is also available on mobile devices.
ZOHO FOR NONPROFITS
The Zoho CRM is an efficient and economical CRM choice for smaller NonProfits, with free licenses for up to three users and discounts available for charitable organisations after that.
It's a straight forward CRM with an intuitive UI that works well on most devices. One of the nice things about Zoho though is the number of Out-the-Box reports available that can be set up and used almost instantly.
THANKQ FOR NONPROFITS
thankQ is a dedicated NonProfit CRM that understands the sector well, specialising in faith-based, environmental, international relief and social service charities.
It's a good relationship building platform with tools designed especially for the NonProfit sector with a modular design that lets you purchase only those aspects of the platform you feel your charity would use.
HUBSPOT FOR NONPROFITS
Hubspot's main product is their marketing automation tool and their NonProfit CRM has clearly been created as a gateway to that.
That being said, their CRM offering is free, feature rich and easy to plug in and start using as an out-of-the-box solution so is a great starting point for an organisation not sure where to start.
VTIGER FOR NONPROFITS
Vtiger is a great CRM platform for any NonProfit on a budget as all its basic functions come free.
It's a great entry level CRM system that lets an organisation get up and running quickly but really comes into its own for any NonProfit that needs to manage inventory.
Vtiger offers excellent inventory management functionality, easily allowing you to manage stock and customers' orders if your charity sells goods to support or promote itself.
DONORPRO FOR NONPROFITS
DonorPro is another great, cost-effective solution for the smaller NonProfit that comes with some useful features such as donor management, event planning, volunteer management, integrated marketing, analytics and inventory management as standard.
One of DonorPro's nicer touches (and more popular functions) is its ability to support fundraising events such as hosting online auctions.
CARE FOR NONPROFITS
CARE, much like Microsoft Dynamics, is a good choice of CRM for larger NonProfits as it was specifically designed for enterprise level organisations.
It hosts plenty of streamlining capabilities and time saving functions for your staff with a high level of advanced tech for NonProfits looking for 'more'.
The trade off for that functionality though is it's an inhouse system. You'll have to work directly with CARE rather than a third party for any bespoke developments you might wish to create, meaning if you're looking for something bespoke you won't be able to shop around for developers.
BITRIX24 FOR NONPROFITS
Bitrix24 is an incredibly flexible CRM system for NonProfits. It's another of the free options (for up to 12 users), making it ideal for NonProfits with smaller numbers of staff.
It comes with a built-in email marketing system, sales automation, invoicing, sales reporting, and donor management tools that are all very easy to use.
The only downside (if you can consider it such) is that if you're looking for a bespoke solution many third party developers might not be as familiar working with it as they might be with something like Dynamics 365 or Hubspot, making it harder to find a reliable partner to work with.
Related Articles
You might also be interested in
Have a question?
Leave your details and a member of the team will be in touch to help.