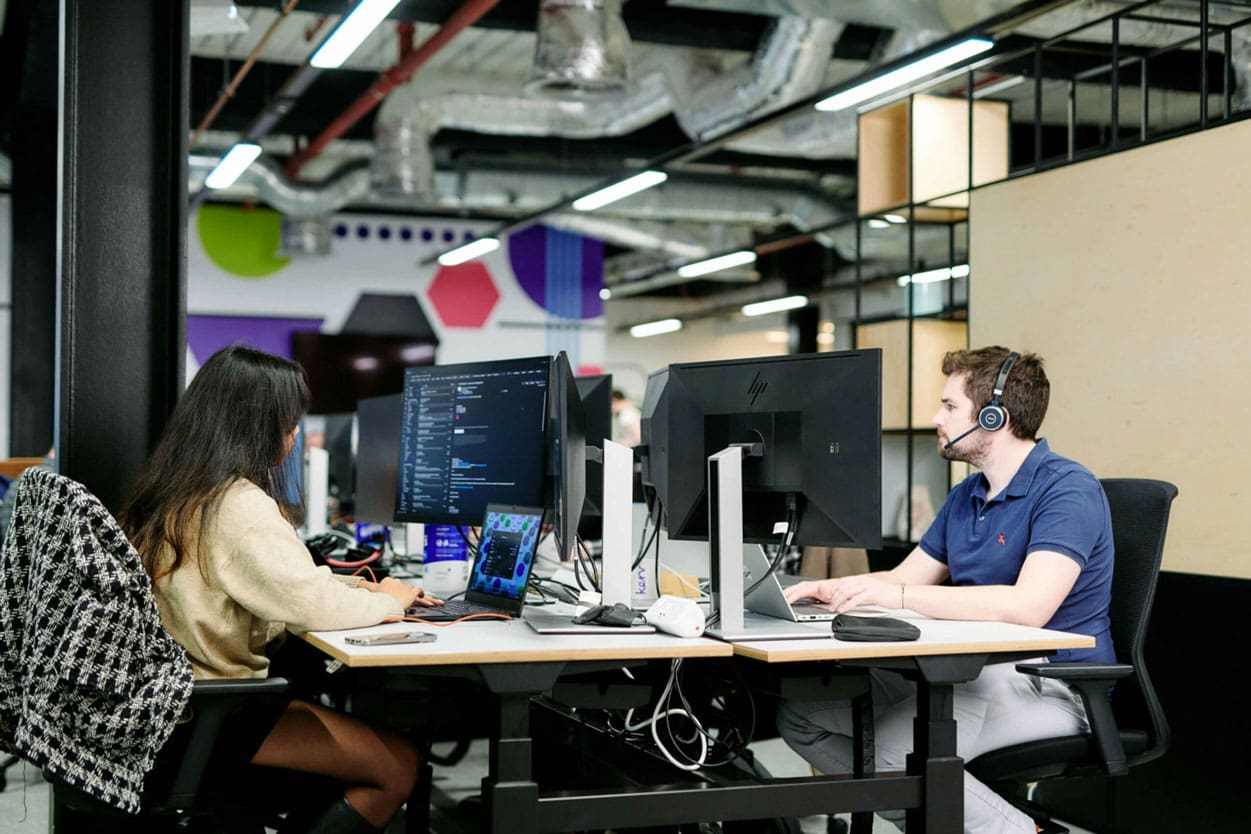 What's The Best CRM For The Membership Sector?
James Crossland
Digital Marketing Manager|Kerv digital
Published 06/07/22 under:
Engage new, existing and ex-members, build relationships, run online CPD's and manage analytics quickly, efficiently and cheaply
There isn't a membership organisation out there that couldn't benefit from a better CRM system.
There's no question that, to manage the lifecycle of a membership effectively, a membership organisation needs a cutting-edge CRM solution.
The accelerated adoption of cloud-based technology during the pandemic, with its ever-increasing numbers of apps, features, integrations, and bespoke solutions means there's almost nothing a modern membership organisation can't do when backed up by the right CRM.
However… with so much choice out there, it begs the question…  'what's the best CRM system for a membership organisation?'
A modern CRM system needs to work hard in the membership sector, leveraging both new and existing relationships all whilst keeping compliant and yet also offering up to date compliance advice.
That's a lot of different moving pieces, many of which could need a high level of AI and/or robotic process automation to be truly successful… A big ask for any CRM!
What Should A Membership CRM Be Able To Do?
It's not easy operating in the membership sector these days.
The days of just having a place for sign up and receiving updates on an organisation are long gone as the digital world has grown up around us.
These days, data protection is number one concern and your members will want to ensure any details they give over are, and remain, secure.
But the culture of members has shifted too. They have been in the digital sphere for years now and their expectations for a decent user experience are higher than ever. If it takes too long to get the information they want, or the page they're looking for, then they'll simply lose interest and leave.
They expect the same customer experience from your website as they do from industry giants like Netflix or Monzo. etc.
A modern membership organisation will struggle to acquire and retain new members, so it is a priority to place member engagement as number one. A clear idea in mind of your target audience and their story is what will help boost numbers and keep them there. Your members need to see the value in you organisation, and by being a place with a memorably unmemorable user experience, that grants them instant gratification of easily found knowledge and intuitive website building, it really does pay dividends to select the right CRM system for you.
It also needs to, in a single view, liaise with third party partners and persuade media outlets to run (positive) stories about your organisation… all of this in a time of tightening budgets, stifling regulatory oversight, decreased membership levels and a greater need than ever for your membership's engagement.
That means building lasting, long-term relationships with all of the above individuals, businesses and organisations isn't just a 'would-be-nice' anymore; it's absolutely essential to achieve your goals.
Whilst the day-to-day business of a membership organisation might differ (gyms, banks, trade associations, professional associations, clubs, etc) all have one thing in common… They're all dependent on members resubscribing for their operating budgets.
That's why the core functions of a Membership CRM system must focus on members' engagement and retention. That doesn't mean however, that it won't be called upon to do a lot of other functions.
The good news however is that thanks to data driven technology, layering automation tools over CRM tasks has never been cheaper or easier.
But what exactly should a Membership CRM be able to do?
Key Features Of A Membership CRM System
CRM software has changed a lot recently and the right CRM can give a membership organisation a real competitive edge in a tough market.
If you're on the lookout for a new CRM, looking to upgrade/replace an existing system or worried about vendor lock-in then below is just a few of the tools you should be on the lookout for…
ROBUST MEMBER PROFILES
Membership, universally, should store necessary information such as contact information, more sophisticated solutions will auto-populate specific information from other integrated features, such as:
Event attendance: Your CRM system should have the capability to record the type of ticket bought and any add-ons they opted into.
Connections: The CRM system should be able to show the relationships between members, whether they're colleagues or peers in the same chapter etc. That level of connectivity will allow for reflection on how your members relate to each other.
Membership level: If you apply tiers or different membership packages to your organisation then your CRM should apply the appropriate badges, special permissions, or discounts based on their membership level.
AUTOMATIC MEMBER RENEWALS
Member retention is paramount to maintaining the strength of the networks that professional and trade associations create.
The simpler the process is to renew the more likely you are to hold a recurring relationship with that customer. They don't want it to take any time from their day at all.
To keep this process streamlined you should find a membership software that recognises when a member's subscription is up for renewal and send them automatic reminders. These reminders should be:
Timely: Allow your members plenty of time to renew before their subscription expires.
Recurring: The reminders should be like a gentle tap on their shoulder, not a screeching car horn in their face.
Personalised: It goes without saying, just putting their name and a direct link to the renewal form with personalise the experience and encourage retention.
EVENT MANAGEMENT
You might find the thought of planning real world events digitally slightly incongruous but if 2020 has taught us anything it's the power of online events!
Either way, online or in real life, good CRM systems should include software management tools that will let your Membership organisation schedule their events, invite and manage attendees, create seating plans, track who's coming and who needs following up and most importantly allow your team to access this information on the go, at events through mobile devices.
PAYMENT PROCESSING
This incorporates more than just your membership sign-up; online courses and event tickets will also be an important funding source for your association and as such your membership software should be able to provide analytics on where these different streams are coming from.
Which leads seamlessly on to…
ANALYTICS AND REPORTING
There's no way to know if what you're doing is working if there's no way to monitor it. You can't grow and move forward if you can't see what did and didn't work, so a CRM system with the capability of both granular data and overview is vital to your organisation.
ONLINE SELF-SERVICE MEMBER PORTALS
Your members should be empowered to take control of their engagement. They should have full control over their membership tiers and status, easy online event registration and check-in, online communication and networking outlets, and continuing education, certification, and accreditation options.
A smart membership CRM system will create authentic engagement that your members will want to use to interact with your organisation, because they know you will provide them everything, they need to further their careers.
FULL DATABASE CUSTOMISATION
As mentioned in the 'Analytics and Reporting' section, you need to use your database to the best of your abilities otherwise you can't monitor how the changes you've made are impacting your organisation.
Customising your data allows you to control the information you want to see, analyse your members at a more focused level with segmentation options and allowing you to conduct targeted communication efforts. Finally, customisable views mean your staffers will always see the most relevant information for their daily tasks, instead of sifting through the mud for what they need.
Basically, a good membership CRM system is a good business intelligence tool.
BUSINESS INTELLIGENCE TOOLS
Your traditional CRM's have always been great at collecting large amounts of data and business intelligence. What they've not always been great at is being able to do anything with that information.
When you're looking at which CRM suits your Membership organisation best, make sure you settle on one that can segment, analyse and report on information with ease.
It also helps if the CRM allows you to layer AI integrations over those intelligence reports which will allow you to automate reports, plan ahead and garner in-depth business insights and draw connections you might otherwise not have been aware of.
The Top 8 Membership CRMs Available Today
MICROSOFT DYNAMICS 365
We'll start with Microsoft Dynamics 365 as the majority of the membership sector consider it the best membership CRM available on the market (with good reason).
It's simple to learn, easy to download, great as an Out-the-Box solution but can also be customised to do almost anything you might require, including integrate with third party applications and services.
It also integrates seamlessly with Microsoft Office and Outlook which the vast majority of both the private and commercial sector operate on. That seamless integration with Office (in this case Excel) also makes Dynamics reporting second to none. Its Business Intelligence tools allow you to drill down and parse data better than any other platform currently on the market, which is easily automatable to create regular reports with charts and graphs that can detect new trends at a glance.
As it's Microsoft your staff will be inherently familiar with it and with the drive towards citizen developers and low code/no code software your staff will easily be able to create their own applications.
WILD APRICOT
Wild Apricot is a membership management software package that allows membership associations to 'keep tabs' on their members.
It sounds meaner than it is; all 'keeping tabs on' means billing members for dues and events and engage with them in meaningful ways.
It features the hallmarks of a sophisticated membership CRM software.
JOIN IT SOFTWARE
Join It allows users to build a centralised membership database, search contacts, create web pages and more.
At a quick glance, Join It empowers organisations to create customisable membership plans offering different benefits at different tiers and prices.
SILKSTART
SilkStart is an intuitive system so whether you're an administrator or a member you will be able to navigate the interface with no problem. The dashboard provides a "health at a glance" type of overview that allows you to observe the general health of your chapter in one easy to view place, and it provides reports on tracking membership churn.
With SIlkStart you can automate your association's processes, send and schedule emails, set up events and communicate with certain membership levels/groups and clone everything for future use.
GLUE UP
Like most systems, Glue Up is an intuitive system that doesn't alienate administrators or members alike. There is little upskilling required so your organisation can set up the system then be on their merry way in no time at all. It is an out of the box solution that combines events and membership management.
HIVEBRITE
Hivebrite is an all-in-one community management platform. Empowers organisations of all sizes and sectors to launch, manage and grow fully branded private communities.
Customisable, community engagement focused, up-to-date member data, manage memberships and events, collect payments, centralise communication. Can just turn on and off features as demands require.
CHARGEBEE
Chargebee is a CRM system that captures, retains and maximises revenue opportunities via automated, recurring billing, subscription management and revenue analytics; basically, it's best for recurring subscriptions and billing.
It integrates seamlessly with your other solutions you may have in place.
MEMBERCLICKS
Memberclicks is, once again, an all-in-one solution to save time and engage with members.
Manage finances, marketing, events, and membership in one place.
It's user friendly, customisable and with continual product improvement you know you're always kept up to date.
Memberclicks' reports can provide real-time information, and offers integration of membership data and website, so going down to the granular level of your data is no trouble.
Bespoke vs Shrink-wrapped CRM systems:
It's actually a bad idea to go totally bespoke.
You might be thinking that it's counter-intuitive, and that something 'out-of-the-box' will not be able to cover all the processes your organisation requires. However, it is because the application has had to roll out to many organisations before yours that has enabled the solution to encounter it all before.
Not to sound too much like a friendly nurse at the GP office but they've seen it all before.
Going totally bespoke means your organisation is entirely dependant on one app that has been built by one person… If that person leaves your whole organisation's processes are in jeopardy because no one else knows how to operate it!
It begets stagnation then as no one can add features to the app, and you're in danger of stalling any growth you've made.
A straight shrink-wrapped solution isn't the answer either, what you need is something in the middle. Something that can adapt to your organisation's needs and something which you can switch on and off features as the gods deem desirable.
A component-led design offers 'out-of-the-box' features that can fit together like Lego pieces; the Lego was pre-manufactured but the opportunities for creation are limitless.
Related Articles
You might also be interested in
Have a question?
Leave your details and a member of the team will be in touch to help.