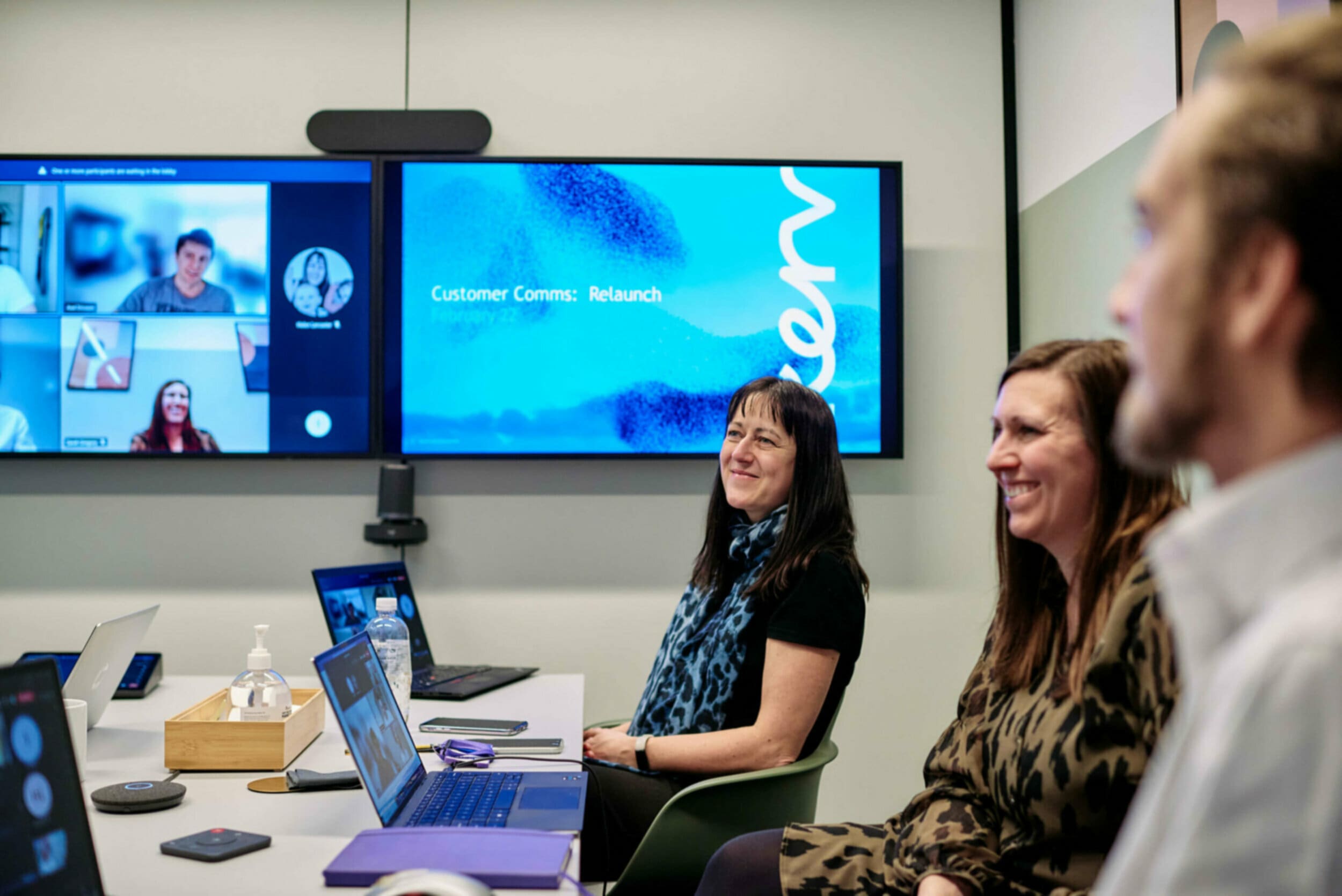 What Does IAAS, PAAS & SAAS Stand For?
James Crossland
Digital Marketing Manager|Kerv digital
Published 06/07/22 under:
What are IaaS, PaaS and SaaS and what can they do for you?
If you've ever found yourself researching Cloud-based solutions for your business or organisation then you've probably come across the term's IaaS, PaaS and SaaS and may be wondering what they actually mean and how they can help you.
It wasn't so long ago that all of a company's I.T needs would have been on-premise and clouds were something artists added to make their landscape paintings pretty.
These days, if you want it to, a Cloud-Platform can replace all your on-premise IT needs (with the added benefit of saving your business money in the process).
IaaS, PaaS and SaaS are the three main platforms a cloud-based solution will be built on.
Hopefully, by the end of this article, you'll know:
What IaaS means
What PaaS means
What SaaS means
Will understand what the benefits of each are for your business
How Kerv Digital can help implement them into your organisation.
Infrastructure as a Service
IAAS DEFINITION
IaaS offers businesses and organisations various services and solutions such as pay-as-you-go Cloud storage, networking and VM's (Virtual Machines).
It offers a cloud-based alternative to on-premise infrastructure so that business don't have to invest in expensive and on-site equipment.
To put that into simpler language; picture your I.T department for a moment. Do they have a server room somewhere in the building?
That's on-premise infrastructure.
Now imagine that room wasn't there anymore and those 'servers' were virtual machines on the internet. That's IaaS.
Infrastructure as a Service delivered over the internet.
BENEFITS OF IAAS
Having on site infrastructure (like servers) is expensive, labour intensive, takes up valuable office space and with depreciation of hardware isn't a great long-term investment.
It can often involve an expensive up-front cost for the physical hardware plus the cost of installing and then, on a day to day basis, maintaining it.
The benefit of IaaS is that you only need to buy what you need as you need it, purchasing more as your business expands.
This makes it a flexible and scalable solution that can be upgraded or replaced as per business demands compared to expensive physical hardware, that due to its high initial cost you may need to 'get the most out of', even if it's long past it's best.
EXAMPLES OF IAAS
Microsoft Azure,
Amazon Web Services (AWS),
DigitalOcean,
Linode,
Rackspace,
Cisco Metapod,
Google Compute Engine (GCE)
DO I NEED IAAS?
In a word… Yes
Given its scalable nature IaaS is the perfect solution for any size or shape of business as it gives you complete control and freedom over your infrastructure and also operates on a pay-as-you-use model meaning it can fit all budgets.
IaaS, simply put, is a safer, cheaper, more reliable investment for a business.
There's no physical hardware on your premises that can be damaged or go wrong and with most IaaS platforms you'll have access to a 24/7 help desk.
If you're looking to save money and future proof your business, IaaS is the solution you're looking for.
Platform as a Service
PAAS DEFINITION
Platform as a Service (PaaS) provides both virtual hardware and software, so VM's and tools which can then be used to develop applications.
Because of this PaaS is predominantly used by developers.
A PaaS solution is often built on top of an IaaS solution, so again, putting that in more understandable terms, it might help to think of PaaS as a virtual workshop.
The workshop 'space' plus all the 'tools' will be there for you already but what gets built in the workshop will vary drastically from developer to developer, user to user and business to business.
BENEFITS OF PAAS
A PaaS solution gives your Dev Team the ability to create unique software or applications that can be customised to your business' exact needs.
The big selling point of PaaS is that they won't need to start from scratch for every project by writing time consuming, 'basic', code.
Instead, they can take a 'template' and then customise it to exact specifications and needs, which as you can imagine saves a lot of time (and money).
This makes PaaS the perfect choice if your business wants to develop a unique piece of software/app without having to spend a fortune or have to create it from the ground up.
Other, more tangible, benefits of PaaS are that it's accessible by multiple users and, as with IaaS, it's scalable in line with your business needs, growing or shrinking as projects and business needs may require.
EXAMPLES OF PAAS
Microsoft Azure
AWS Elastic Beanstalk
Heroku
Force.com
Google App Engine
Apache Stratos
OpenShift
DO I NEED PAAS?
If your business does some or all its own development in house then PaaS will be, by far, the most cost and time effective way for your developers to create amazing software.
It gives them the space to focus on the creative side of software and app development without having to worry about the more technical side like software updates or security patches.
With a PaaS solution that work is already all done for them meaning all their efforts can be focussed into creating, testing and finally deploying the software or app.
Software as a Service
SAAS DEFINITION
SaaS platforms such as Microsoft Azure or Amazons AWS make software and apps available to business' and organisations over the internet, normally on a monthly subscription model.
Putting that into simpler terms again; imagine all the different programs you currently have on your computer. Now also list the ones that are exclusive to your business and imagine the time and recourse needed for IT to install them on every machine in your organisation.
With SaaS all of those programs will be on the Cloud (online) with someone else responsible for making sure they all work on a day to day basis.
BENEFITS OF SAAS
As mentioned, with SaaS you don't have to have anything installed on your computer to run the applications.
That means with just a log in and password you can usually access everything from any machine with internet access should you need to.
Your IT department won't have to waste hours of time downloading new applications every time ones needed to everyone's machine or configuring everything for new starters; all they need to do is create a user a log in and password, set their permission levels and they'll be ready to go.
Another benefit is the software will always be up to date, no longer requiring regular updates or security patches.
SaaS and the Cloud takes care of it all for you!
As with IaaS and PaaS, SaaS is operated on a subscription model, normally with a fixed, monthly fee which will allow your Accounts Team to budget and plan ahead accordingly with most providers also including maintenance, update and security services withing that fixed, monthly cost.
Most SaaS solutions also tend to be 'out of the box' meaning the initial set up is quick and simple to implement, often able to be deployed within a couple of hours.
EXAMPLES OF SAAS
Google Apps,
Dropbox,
Salesforce,
Cisco WebEx,
Concur,
GoToMeeting
DO I NEED SAAS?
Can you guess what we're going to say here?
Of course you do!
SaaS platforms are incredibly flexible, allowing users to access everything the need from any machine with internet access, making a SaaS solution perfect for any business working on a Disaster Recovery (DR) plan, streamlining or future proofing themselves.
As with IaaS and PaaS it's scalable based on your business needs with pricing tiers available for small, medium and even enterprise level businesses.
This all makes it ideal for when you want software to run quickly and reliably with minimal input from your IT team.
So, in summary; IaaS will provide your business with cost savings on hardware combined with scalability and flexibility of infrastructure.
PaaS, often built on top of IaaS, will save your development team time (thus saving you money), allowing them to focus on develop award winning applications rather than spending all their time on basic coding jobs.
And SaaS will give you quick, flexible and easily deployed, 'out of the box' solutions to meet a particular business need.
Related Articles
You might also be interested in
Have a question?
Leave your details and a member of the team will be in touch to help.