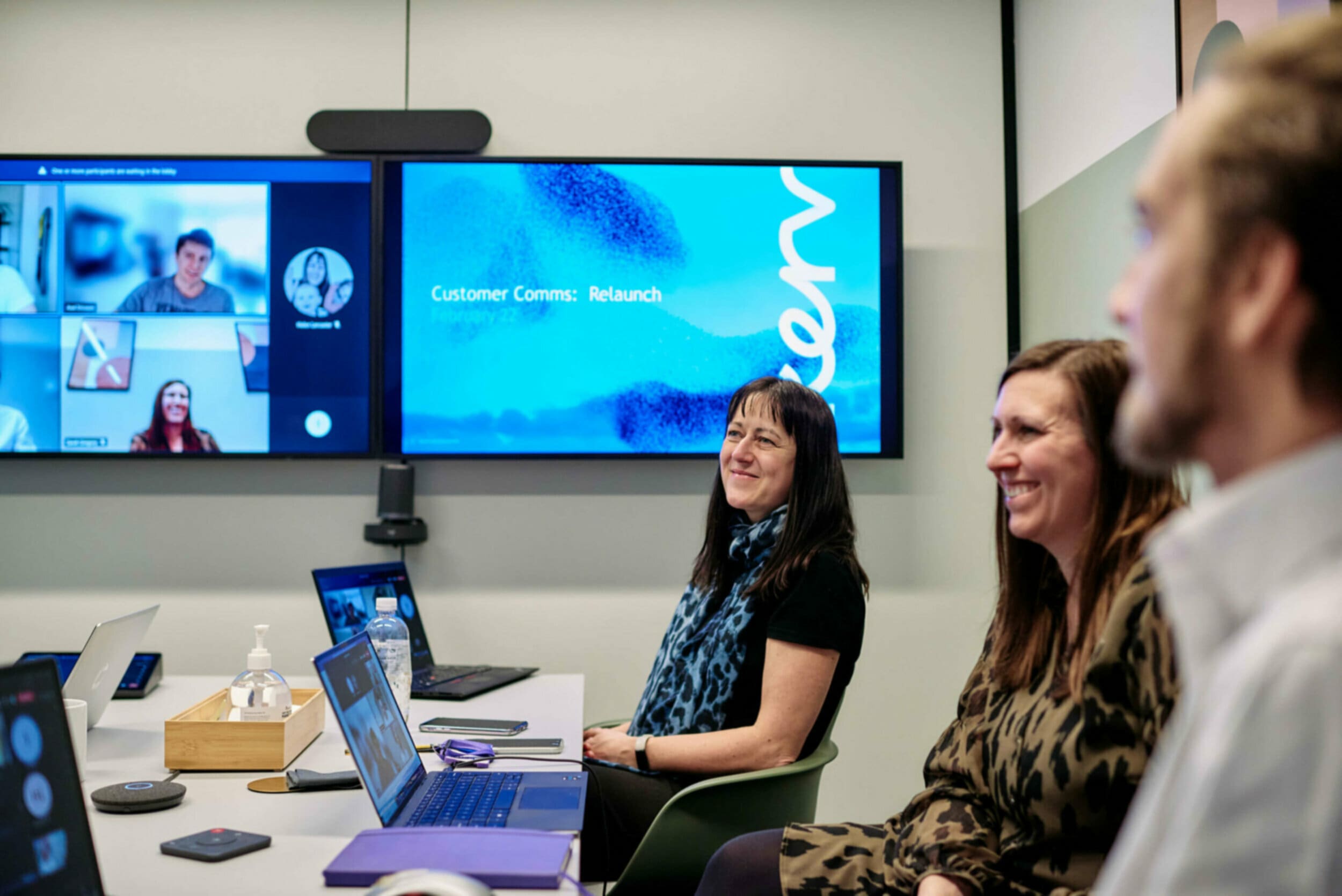 What Can Business Central Actually Do?
James Crossland
Digital Marketing Manager|Kerv digital
Published 06/07/22 under:
Microsoft Dynamics 365 Business Central: All Its Features & Functionality Explained
D365 BC is a single, end-to-end solution to manage all an organisations operational needs
What Is Dynamics 365 Business Central?
Microsoft Dynamics 365 Business Central, formerly known as Dynamics NAV, formerly known as Navision (yes really… it's that old!) is a standalone, end-to-end solution, capable of managing all an organisations business processes in one place as part of Microsoft's range of awesome D365 business applications.
Its digital transformational power is immeasurable, allowing organisations to streamline and automate a vast array of business functions, processes and roles, meaning valuable staff can get on with much more important (and ROI heavy) duties.
It's capable of handling an organisations finances, customer engagement, customer service, operations, sales, reporting and much, much (much) more.
It's also great value for money as it can integrate with the full Microsoft Stack (including Office 365) out-of-the-box, but is flexible enough to be customised for specific sector or industry needs that might be unique to a particular organisation using Power Apps, Power Automate and Power BI for additional low code/no code solutions, massively reducing the cost of ongoing development.
What Makes D365 Business Central Stand Out?
What makes Dynamics 365 Business Central stand out against so many other ERP solutions has to be its flexibility.
We've already mentioned how it can be customised and extended with numerous low code/no code solutions through Power Apps and Power automate… what we didn't point out though was the months of development time that will save without needing years of development experience to even attempt it.
That means each user can be set up with their own homepage/dashboard, featuring different metrics or apps relevant to their roles or themselves.
The fact that Microsoft invest in their stack so much also doesn't hurt.
It means organisations gain access to an entire eco-sphere of amazing products, extensions, plug-ins and bolt-ons, from good ol' Office 365, right through to the entire range of D365 products and finally to any apps you create yourselves on the Power Platform.
You'll be able to create Business Central purchase orders directly within Outlook, a Power BI graph could appear right on your BC dashboard or you can manage and automate all of your warehouse's operations… all at the click of a button!
Now one thing we hear sometimes from people researching ERP solutions is that Business Centrals sheer scope can sometimes feel a little overwhelming.
Fortunately, prospective users of BC can treat it a little like a pick & mix (we say a little bit… aside from the fact it's not edible you can treat it exactly like a pic & mix), just choosing the modules that will be of benefit to the organisation at the time.
It's then very easy to add all the extras as the scope of the business grows, letting Business Central grow with you.
Enough about what Dynamics 365 Business Central is though… and on to what it can do!
Financial Management With Business Central
At its very heart, D365 Business Central is, and always will be, a financial software management system.
That's not to say it can't do other things, because it absolutely will, and will do so awesomely, but we're starting with Financial Management as that's what BC does best, is what it's best known for and is the most commonly used function.
BC will provide the core functionality needed for an organisations basic financial management solution requirements, whilst also being flexible enough to address more complex issues such as multi-currency, multi-site and multi-company issues, all whilst making it child's play to connect an organisations financial transactions and data across the business, across affiliate companies and even for multi-site or international firms (there's a common misconception that if you're an international firm Business Central isn't suitable and you'll need to pay for D365 Finance & Operations but that simply isn't true… as we explain here >>).
In fact, the multi-currency functionality includes automated revaluation and recording of realised and unrealised gains/losses straight out-of-the-box.
It also allows you to streamline financial processes whilst getting a real-time view of them in a single dashboard. The sharing of financial data is suddenly a lot more secure when done so through Business Central thanks to Microsoft's baked in security-by-design principals, meaning budgets and cashflows, if required, can be a lot more collaborative, rather than siloed away.
In total, the functions provided by Microsoft Dynamics 365 Business Central are:
Cash Book
Consolidation
Credit Control
Fixed Assets
General Ledger
Inter-company Trading
Liquidity
Multi-Dimensional Analysis
Purchase Ledger
Sales Ledger
Getting more specific, a lot of automation becomes possible with BC. This is just a short list of some of the cool things it can do…
Incoming payments can be automated to be applied to the related customer, with the invoice being marked as paid at the same time, making the reconciliation of accounts seconds rather than the hours or days it used to be.
Data can be connected in to provide recommendations on the best time to pay vendors to take advantage of vendor discounts or avoid late penalties/fees.
The sales and purchase ledgers are all fully integrated with stock and order processing features but… If required, both sales and purchase ledgers can operate independently of the stock and order processing functions.
Sales invoices (credits) can be raised against the General Ledger to invoice clients for non-stock activities such as commission, expenses or other ad hoc items.
Purchase items can also be entered directly for non-stock activities (expenses, utility bills etc). That non-stock process is also capable of being started as a non-stock purchase order, which, as you've probably guessed, can then be later matched up to the purchase invoice.
It's possible to spread purchase invoice lines over multiple and varied cost centres that can then be posted to prepayment accounts for later release. Once done, both cost spreading and those future period releases can then be set up as templates to be later replicated at the click of a button.
The costing of goods will automatically be worked through to the finance system. That's achieved through valuing stock purchases at the time of receipt where it's first accrued as goods received, but not invoiced, before being finalised or invoiced.
The costs of goods sold will be automatically released when a sales shipment is posted. There's also a wide variety of costing methods that can be chosen, from FIFO and LIFO through to standard and average depending on organisational preference.
It goes without saying that the general ledger has a general journal feature but… in Business Central, it's possible to journal between subledgers, for example between sales ledgers, the general ledger, cash book or fixed asset ledgers. Journals can then be saved as templates to allow for repeated use. It's even possible to set up a recurring journal to take care of tasks such as monthly accruals or prepayment activities (even reconciliations)!
Whenever a transaction that could have a financial impact to the organisation, no matter how small, is recorded, the general ledger will be automatically updated (so if stock is bought or sold; adjusted on or off; money gets pain in or out etc). At the same time BC will also post any relevant VAT info into the VAT sub ledger to be used for later reporting.
The General Ledger is structured such a way in Business central that nominal accounts can be supported with unlimited dimensions for sub analysis of the business. Whilst, as we've said, those dimensions are unlimited and can be customised, some examples of the standard ones out-of-the-box options include cost centre, project, employee, sales channel and product type.
Whilst BC is capable of so much more, the financial aspect of its financial management we wanted to highlight was fixed assets. Business Central's fixed asset module means an organisation can create multiple depreciation books, each, if necessary, with their own depreciation method. Those assets can then be tracked by barcoding products and a handheld device (such as a mobile or tablet) can be used to update their location and condition.
Business Centrals Reporting & Analytics Capabilities
Every organisation that's ever existed has needed a reliable way to measure, report on and draw insights from their KPI's.
How mature that process is however, has always varied from company to company. Understanding an organisations data and organising it in a way that will garner useful business intelligence can be hard.
Before, finding the right process or tool for that may have been difficult but fortunately Business Central, combined with Microsoft Powe BI has the answer (according to us anyway).
Power BI For Business Central
Power BI is part of Power Platform and is an awesome, out-of-the-box visualisation tool (lots of amazing looking graphs for your data in other words) that was designed to integrate seamlessly with Business Central to create and automate reports and dashboards (visual report displays).
Power BI will pull information directly from Business Central (or other sources like Dynamics or even third-party applications like Google Analytics) and display it in a visual format that makes it easier to understand complex data, patterns and trends at a glance. Once created, those Power BI dashboards can then be embedded straight into BC, letting a user see what they need at a glance.
Managing Purchasing Processes With Business Central
Monitoring your sales-orders and purchasing processes couldn't be easier with Dynamics 365 Business Central as you're provided, straight out-of-the-box, with a fully integrated order-processing suite that will manage both purchase and sales orders.
Once integrated they'll work through automated workflows and dynamically updated inventory levels.
Those levels of automation will also help prevent unnecessary (or fraudulent) purchases as with the right levels of approvals mistakes (and fraud) become a lot harder to go unnoticed.
You can also modify invoices that have already been posted in the financial management system and document the correction without any of the normal issues that you'd normally have, create purchase invoices and orders that will record the costs of purchases whilst tracking accounts payable and even make the process of staying on top of expense claims easier through the implementation of advanced workflow and approval structures.
Another nice feature is the ability to automate tasks related to vendors, including the tracking of agreements (discounts, prices, payment terms etc) so nothing is ever missed again when items are ordered.
The best thing about the purchase processes withing D365 BC however is that all that lovely functionality is linked right across the system, giving you total visibility, end-to-end, of the entire solution across the lifecycle of an order.
For the really nit-picky amongst our readers who are interested in exactly what's possible, the full list of what Business Central can do is:
SALES ORDER PROCESSING
Alert Management
Catalogues
Credit Control
Document Format Management
eCommerce Integration
Mobile Sales
Order Promising
Price/Discount Management
Quote-to-Invoice Management
Retrospective Discount
Returns Management
PURCHASING
Alert Management
Catalogues
Consignment Management
Price/Discount Management
PO Budget Control
Requisitions-to-Invoice Management
Retrospective Discount
Returns Order Management
Vendor Management
The purchasing functionality baked into BC is also more than capable of giving easy visibility to users of stock levels, sales history and even future forecasts to create recommended purchase lists.
PO's (purchase orders) are automatically generated and, with a clever bit of AI, all vendor information can be used to provide cost prices and a delivery expectation.
Without any input from a real person (post the initial creation) integrated workflows are capable of generating authorisation requests based on previously created business rules meaning, amongst other things, purchase orders will be able to be sent out automatically via whatever format you've designated (post, email etc). Goods can then be received into the stock management system and when a purchase invoice is received, it will automatically be matched with any outstanding receipts.
That process will, again, allow an organisation to automate the approval of invoices, sending them via workflows, and, once they're posted in the ledger, invoice aging can be made visible to any purchase ledger user who requires it.
It doesn't end there though (gasp).
BC also offers integrated document management features that allow organisations to do really cool stuff (depending on your definition of cool), like barcoding documents.
Why you ask?
A barcoded document can be scanned with a mobile device and automatically linked to the relevant file in Business Central.
When invoices then become due, they'll automatically be added onto a payment suggestion. Once they're approved, a BACS file can be produced or a cheque printed automatically. Business Central can even work with SEPA payment mechanisms!
Basically, what we're trying to say is that the Purchase to Pay and Sales to Cash processes in Microsoft's Dynamics 365 Business Central application can do a LOT of stuff. A lot of really complicated stuff that would previously have been many hours of manual work. Except now, after it's been configured correctly, it can now all be done at the push of a button (and oft times the button won't even be needed).
Sales & Marketing Functionality Within D365 Business Central
Although Microsoft offer separate D365 Sales & Marketing solutions, Business Central actually comes with some Sales & Marketing features already built in.
Depending on the size and scope of the organisation, Business Central will integrate and extend seamlessly with these but if your organisation only needs limited functionality in those areas then D365 BC is a great, all in one, solution.
BC's sales & marketing functionality allows teams to drastically cut the time from quote to sale by linking up an organisation's sales process to its accounting processes.
Sales & Marketing departments can also work closer together by flagging sales enquiries right from Outlook, with multiple ship-to and bill-to addresses per customer easily automated including direct shipment and invoicing addresses.
The full functionality of Business Central's Sales & Marketing includes:
Campaign Management
Contact Management
Document Management and Generation
Email Integration
Mobile Sales
Opportunity Management
Sales Order and Process Management
Tasks/Interaction Management
Warehouse Management Made Easy With D365 Business Central
Business Central's Warehouse Management feature is one of its best known, just behind its financial management solution (in fact the two work really well together).
It offers a comprehensive organisational information solution capable of automating a whole host of manual tasks (obviously), whilst connecting processes and workflows across the organisation that enable fact-based inventory management, providing all relevant stakeholders with easy-to-read visibility into business performance, margins, ROI, profitability and potential growth opportunities.
It can be set up with a very simple layer of control, where the stock is stored in a warehouse and BC manages high level tasks like quantity. Purchase Orders get booked in and sales orders get sent to the customer.
Now BC is great… awesome, in fact, but there's obviously a limit to how many manual processes it can automate. Warehouse staff will still be needed to help with the picking of orders.
That being said, BC can still help speed up even those types of manual functions.
Business Central can be installed on phones, tablets or any other kind of warehouse specific handheld terminal (HHT's) to speed up operations.
Put-away instructions can be shown on the device as the worker moves about the warehouse, highlighting via a map specific bin locations and the exact position of stock based on pre-set capacity and pick up zone configurations.
Moving away from handheld devices (although still possible on them of course) pick face replenishment, quality inspection and cycle counting can all be supported/automated through BC.
Again, listing the full capabilities of Warehouse management within Business Central:
Automated Data-Capture
Consignment Management
Courier Systems Integration
Cycle Counting
eCommerce Integration
EDI
Inventory Optimisation
Multiple Locations
Serial Number and Batch Tracking
Stock-Unit Management
And that's all just straight out of the box, before the clever Kerv Digital Business Central team start doing really awesome customisations!
Resource & Project Management Within Business Central
No one enjoys Project Management (project managers accepted).
Keeping track of tasks, statuses, people and goals is by its very definition, laborious.
That's why Microsoft created the Resource and Project Management solution for Business Central.
With it, a user can complete manual resource and project management tasks easily, whilst still collating all the data needed to help manage budgets and monitor the ongoing progress of tasks.
It's most commonly used for time and expense billing as it comes with time and expense input, approval and generation of sales invoices to customers but organisations can use it to track both machine and staff project hours using the built-in timesheets and also access real-time data on available resources whilst managing usage levels and profitability levels.
Customer projects can all be created, managed and tracked from within BC, seamlessly integrating with all of BC's other functionality of required, to provide detailed job costing and reporting capabilities.
Dynamics 365 Business Central is a great end-to-end solution for project management on both simple and complex tasks, with the connectivity to BC's other functions, plus the wider Microsoft stack making it a great choice. The integration with the purchase ledger allows for other costs incurred against a job to be posted and used for subsequent creation of sales in invoices where relevant.  WIP can be calculated and costs or revenues released to the G/L accordingly.
Other features include:
Resource Management
Capacity Management
Cost and Price Management
Job Lifecycle Management (Opportunity to Completion)
Timesheet and Expense Recording
Cost and Work Breakdown
Budgeting
Business Central's Service Management Functions
It doesn't matter what you're looking for here, contracts, warranties, SLA's or NDA's, Business Central can optimise operational efficiency by providing up to date (and constantly updated) efficient contract management whilst enforcing business critical processes.
As well as contract and SLA management, the service management functionality withing D365 Business Central also offers:
Item and component history
Mobile service
Work and material planning
Scheduling and Dispatch
Service Item Tracking
Service Order Management
Service Price Management
Empowering An Organisations Manufacturing Processes With D365 Business Central
Business Central, when it comes to manufacturing processes, is there to streamline and manage operations, from factories doing just a basic form of assembly right through to giant multi-site MRP.
BC, as with all its other fictions, integrates streamlines and manages every aspect of an organisations manufacturing process, including planning, scheduling, inventory levels, distribution networks and financial management, often using other BC functions to do so.
Manufacturing has come under a lot of pressure in the last few years (before we even start on the impact COVID has had). Many have found their market growth slowing, or worse, going into decline or reverse. The emergence of markets like China, with offering low cost offshore solutions has had a huge impact… at a time when customers are demanding lower priced, higher quality products with massively reduced lead times.
That's where Business Central steps in, lowering operational costs through automation and the flawless integration of processes across the organisation.
The full manufacturing process suite includes:
Agile Manufacturing
Capacity Planning
Demand Forecasting
Finite Loading
Machine Centre Management
Production Bill of Materials
Production Order Management
Production Scheduling
Supply Planning
Version Management
All manufacturing firms have to manage their core sales, with stock management to buy and sell finished items but BC's manufacturing module provides additional controls when it comes to the consumption of raw materials, managing differing machine or human activities before the outputting of finished items.
BC's bill of materials and routing mechanisms support an MRP process and production orders (forecasted, planned and firm) are created to consume components.
Back or forward flushing is available as well as the discrete issuing of materials.
Features such as scrap management and sub-contractor manufacture are also integrated parts of the manufacturing module.
Plus, just in case you needed to create finished items from components but find that the manufacturing modules are too complex, Dynamics 365 Business Central provides a neat kitting module which allows for the simple creation of an assembly order, which removes the components from stock and creates finished items in one easy process!
Related Articles
You might also be interested in
Have a question?
Leave your details and a member of the team will be in touch to help.