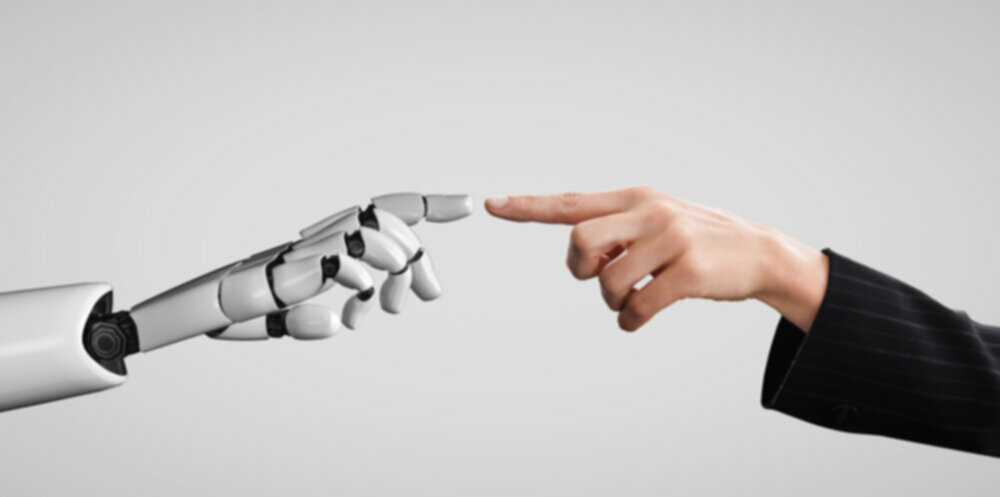 The 7 Stages Of A Successful AI Project
James Crossland
Digital Marketing Manager|Kerv digital
Published 06/07/22 under:
Unlike other popular buzzwords, AI is here to stay and will be digitally transforming/disrupting any industry or sector you can think of in the coming years
Artificial Intelligence, sometimes also referred to as AI or machine learning (the terms should be considered virtually interchangeable) are popular buzzwords in the tech industry at the moment.
As a sector we haven't even come close yet to the heights of what AI could accomplish (no Skynet/Legion jokes please!)
But whilst the possibilities of what's possible with A.I have barely started to be explored, what's understood very well is its foundations; the steps an organisation need to take to make a success of their AI project, embedding it into their businesses easily and efficiently.
Who's Getting Fired?
Let's clear this misconception up straight away…
No one!
The first step to a successful AI project is acceptance with in your businesses culture. You need to make sure all your staff have been onboarded and where necessary upskilled to make it's implementation into your organisation seamless.
Can AI replicate and improve on many human roles?
Yes!
Does that mean mass redundancies are just around the corner?
Absolutely not!
The two main ingredients for a successful AI project are imagination and experience. You'll need people who can dream what's possible with this new technology but also people with a grounding in both the technology itself (shameless plug warning: That's us!), and people who are experienced with your business and industry and can guide the AI.
Before any other steps are taken you need to understand that AI has to be seen as a people enhancer, not a people replacer.
Does Your Business Need AI?
A successful implementation and adoption of AI in your business will require three things.
Someone qualified to let you know the difference between what's possible and what's still sci-fi
A problem or task that AI can be used to solve.
Data, data and more data. As much data as you can lay your hands on!
AI can accomplish many things but it's still a piece of technology and as such limited by technology. Having someone involved in the project who can tell you what's possible and what isn't will save you a lot of time in the long run.
The second point, whilst seemingly obvious, trips up a lot of people. AI is very popular at the moment but don't make the mistake of starting an AI project just because it's the latest 'cool' thing. Working with a partner you trust who can analyse your business and honestly let you know if you've a need for it or not is vital.
Which feeds in to the third point… For any AI project to be successful you need enough data to feed into it for machine learning (ML) to occur.
Again, if you're unsure on this point speak to an expert you trust who can advise you.
Audit The Data Your AI Will Be Using
Our recommendation, before you go and spend your entire R&D budget on a huge AI project, is to get some expert consultancy in to explore the possibilities.
If something's truly worth doing it's worth doing well.
Start small, complete a discovery exercise to audit your data and get a good grasp of where the opportunities for AI are within your business.
How Best To Implement AI
Unless you're a technology firm yourselves you're going to need help with this project.
What most people fail to realise is that successful implementation of AI into a business is about 95% software engineering and only 5% AI.
So where does that leave us?
For your AI to be a success you'll need a detailed discovery utilising a mixture of skills including data analytics, data architecture, data science and solution architecture, with a team of people who understand how these skills relate to AI.
What Platform Should Your AI Be Built On?
All Cloud vendors these days have strong AI offerings, be it Amazons Web Services (AWS), Sales Force or Microsoft.
Here at Kerv Digital we'll happily advise which best suits your business needs; but we do have a soft spot for Microsoft Azure's AI enabled PaaS products.
Azure's Cognitive Services come pre-trained on million-entry datasets making adoption of them into your business a much less laborious process.
Minimise Risk, Maximise ROI
If your CFO is anything like ours they'll want to see a detailed plan of how you've minimised the risks associated with your AI project and maximised your potential ROI.
That kind of thinking is something that we absolutely support here at Kerv Digital and we'll be happy to help with that goal.
Start small, do your due diligence in your discovery phase to identify all the touch points withing your business where AI has a demonstrable business benefit and start from there.
If you apply strong governance to the project (something we always promote both internally and externally) and monitor the results it's possible to quickly build on your successes with a process of Continuous Improvement.
Data, Data and More Data
How much data is too much data?
When it comes to machine learning and artificial intelligence there's no such thing as too much data.
Machine learning (or AI) uses what's known as inductive logic.
That means it learns from seeing multiple examples of something within your data and then makes future inferences based on what's happened before.
The more data you have, the more likely it is that ML-based AI will be able to help you achieve something your goals.
So don't be scared about having swathes of data to make sense of.
We're not… in fact we look forward to it!
Related Articles
You might also be interested in
Have a question?
Leave your details and a member of the team will be in touch to help.