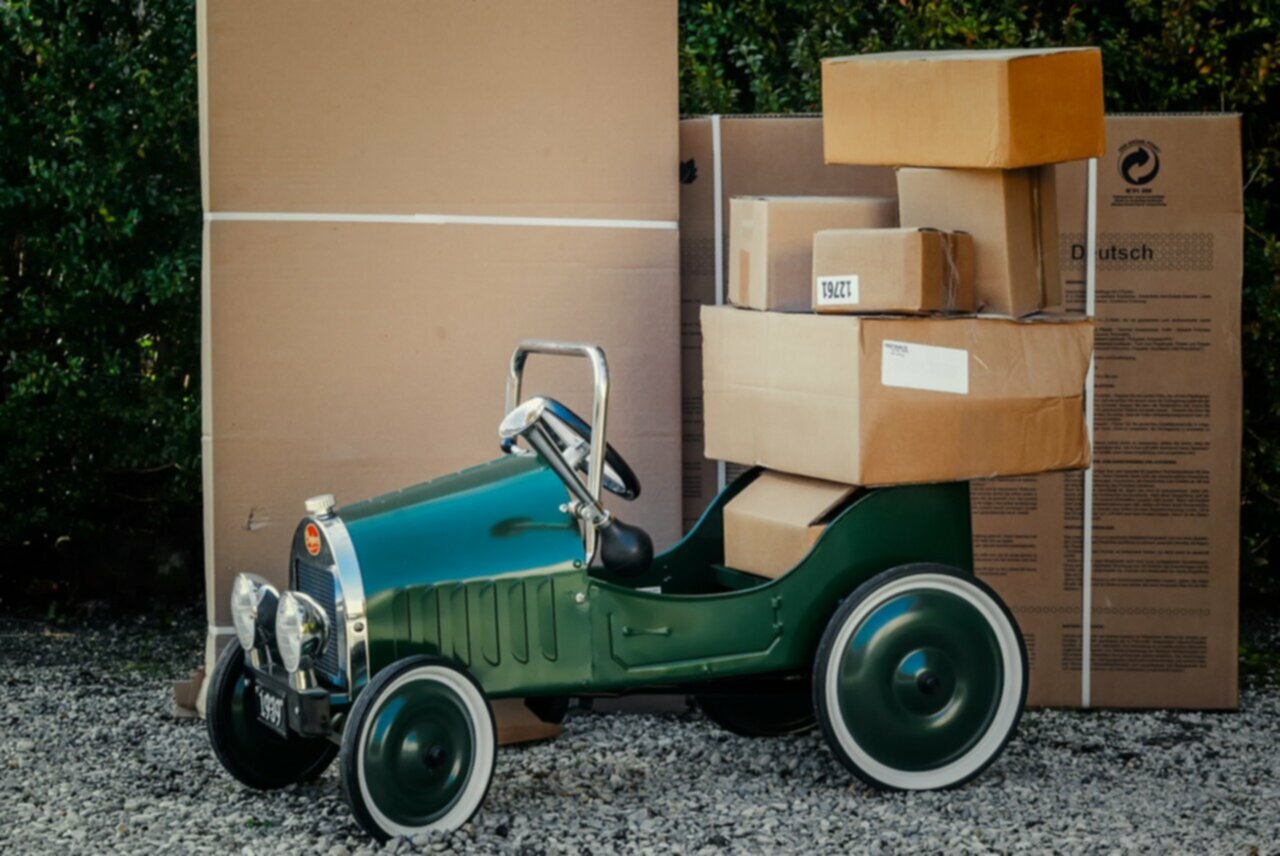 On-Demand Logistics & The Tech That Makes It Possible
James Crossland
Digital Marketing Manager|Kerv digital
Published 06/07/22 under:
Need to order a random tool/lamp shade/book/'insert pretty much anything here' – No problems, Amazons got your back!
Need some groceries today? No problems, Sainsburys, Tesco or Asda's got your back!
Can't be bothered to cook tonight? No problems, Just Eat or UberEATS' got your back!
It's surprising how quickly we've all gotten used to the concept of either same day or next day delivery. We live in a world where we can get almost anything we want or can imagine delivered to our door… often within just a few hours and will often become unreasonably frustrated when we can't.
Research actually shows that 36% of online consumers will abandon their cart if they're not happy with the speed of a sites shipping options.
The trend for same day/next day deliveries, whilst it may seem to have been around for a while, is actually relatively new and whilst the pandemic massively accelerated its adoption, the technology that underpins on-demand logistics is still in its infancy, improving and becoming more efficient all the time.
The ability for a customer to order a product and then have it at their door in a few hours has led to the creation of a 'convivence economy', with convenience becoming the major factor driving modern buying behaviours and one all organisations need to acknowledge if they're to remain relevant in an shifting landscape.
What Is On-Demand Logistics?
First and foremost, it's important to accept that on-demand logistics isn't just another sector buzzword.
Simply put, it's the ability to fulfil an order as conveniently for a customer as possible… either with same or next day delivery.
Online convenience shopping is one of, if not the biggest, trends within retail and supply chain management today and anyone ignoring it will quickly find themselves watching their competitors accelerate ahead of them.
On-demand logistics refers to a modern logistics strategy that empowers online brands to massively expand their geographical acquisition of new customers whilst still fulfilling orders as soon as they're placed.
In most instances, on-demand logistics can also enable and empower a multichannel retail model, streamlining and automating the fulfilment process for any and all orders coming in through multiple sales channels.
To do that however, an on-demand logistics solution requires a mature and robust distribution network, flexible fulfilment solutions and the very latest in automation tools to guarantee speed and accuracy with deliveries.
On-Demand Logistic Acceleration Due To COVID
For retailers, especially those that operate in the online arena, exceeding their customers expectations to stay ahead of an ever-evolving competitive market has always been a (if not the) top priority.
Normally, the easiest way to achieve that was with a mature fulfilment strategy.
It was for that reason that ecommerce has been growing so strongly year on year since the advent of the internet… but the COVID pandemic has seen that growth increase exponentially, changing how consumers think about shopping forever.
Even before COVID, the traditional high street was dying as more and more consumers shifted to the convenience of online ordering, and, short of a tectonic cultural shift in the behaviour of consumers, that trend is likely to continue (though does raise interesting possibilities of how technology can reinvigorate the high street).
In fact, many traditional retailers, seeing their customers disappear to online competitors, have converted their high street locations into 'dark stores' and micro-fulfilment centres so that they can offer both in-store and curb side pick-ups as well as delivery for customers much further afield.
If they didn't know it before, then the importance of supply chain planning was massively underscored during the pandemic to all retailers, big and small.
Consumer's expectations in regard to a high standard and speed of delivery has never been higher and that needs preparing for. Anyone with any kind of supply chain needs to have emergency plans, protocols and alternatives in place for unexpected events or disruptions … whether that be a manufacturing, transportation or warehouse issue.
Anyone hoping for any kind of online brand must build levels of resilience into their supply chain… achieving it through split inventory across logistic centres, partnering with new/multiple suppliers and shipping centres and/or using aggregated data to accurately forecast demand at a micro level to best optimise stock control all underscored by a modern data platform that can handle the level of complexity required to automate an on-demand logistics model.
Empowering The Customer With On-Demand Logistics…
On-demand logistics then, is the science of providing consumers with fast, consistent and reliable shipping. It's how modern brands like Amazon keep people coming back time and time again.
The 'industry standard' is currently around two days, although many brands are offering same and next day delivery either as standard or for an additional cost and that will only become more normal as time passes.
How though…?
Delivery that fast used to be cost prohibitive, even with the option of paying for expedited shipping; so how can so many brands offer faster shipping as standard, at an affordable cost to their bottom line?
The most common solution to on-demand logistics is inventory distribution, shipping product to a customer from a much closer location. However… how can a new business, just starting out, possibly afford multiple distribution hubs, with stock scattered all over the country (possibly even countries)? And how do you even manage stock scattered over so many locations?
Many ecommerce businesses just starting out partner with third-party logistic companies that provide them with multiple fulfilment locations all over their country/the globe where their orders can quickly and efficiently be fulfilled, allowing for packages to be shipped same day/next day, where the demand is sufficient and once the volume of orders justifies it.
Because those third-party on-demand logistics companies can partner with hundreds, if not thousands of vendors, it means they're able to offer hugely discounted shipping rates with international, national and local parcel delivery firms, meaning the additional cost of storage and initial transportation can be offset with much quicker and lower delivery costs.
Third-party logistic companies are just one of the methods used in enabling on-demand logistics though.
Other solutions utilising modern tech to empower on-demand logistics include…
How To Lower Fulfilment Costs With Tech
Whilst their may be slight variation from organisation to organisation, order fulfilment costs can best be defined as all the charges and ancillary charges related to the dispatch warehouse fulfilling of an order… so the storing and managing of the product/inventory; the processing of orders; then picking, packing and shipping of the order.
Implementing any kind of profitable on-demand logistics model might strike some as almost impossible whilst also maintaining a competitive edge as having to facilitate:
Warehousing storage fees
The hiring and training of warehouse staff
Fulfilment software (both implementation, maintenance and updates)
The management of inventory
The purchase, storage, management and use of packaging materials
The organisation and running of kitting and assembling lines
Shipping costs for the delivery of orders
can seem daunting.
Those costs can be reduced but it involves the investment of both time and capital in the organisation's logistics chain.
Real Time Data: One of the first things you'll need is a platform that can offer you real time data on all your logistical operations.
The most important thing for enabling on-demand logistics is knowing what's happening… as it happens. Modern Data Platforms like Dynamics 365 and the Power Platform come with ready made intelligence analytics to enable that level of business intelligence, letting you replenish stock as needed, at the right locations to meet growing and fluctuating demand.
A by-product of that is you can also offer your customers with advanced order tracking, keeping them engaged at every step of the process, from the order being picked, processed, posted and delivered.
Inventory Forecasting: Without the right levels of inventory, an organisation can't ship anything, be it on-demand or a week or two later. That's why the tech empowering modern inventory forecasting is so vital in supporting on-demand logistics.
Inventory forecasting, done well, will automate the process, using historical data to better forecast demand, ensuring an organisation has enough inventory available at any one time without having to pay excessive storage fees due to having too much stock.
Inventory Management:  Once you know what your stock levels are likely to be like, you'll need a platform that can automate the management of it, tracking inventory levels in real-time and view everything on a single dashboard, automate reorder notifications whilst measuring buffer inventory at any one time
Related Articles
You might also be interested in
Have a question?
Leave your details and a member of the team will be in touch to help.