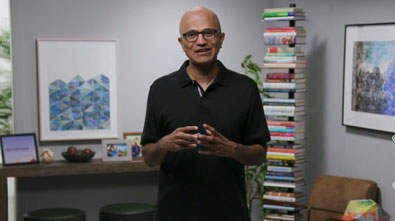 Microsoft Inspire 2022 – Here's All The Big Announcements!
James Crossland
Digital Marketing Manager|Kerv digital
Published 22/07/22 under:
As always, Microsoft Inspire was, well… inspiring.
Chocked full of news, updates, announcements and keynote talks from industry giants like Satya Nadella, Microsoft's newly named Chief Partner Officer Nicole Dezen, Security Corporate Vice President Vasu Jakkal, and top channel execs like Nick Parker and Judson Althoff to name but a few…
A lot of Inspire focussed on Microsoft Azure, unsurprising given the number of Microsoft partners and customers who have moved away from on-prem and now exist solely in the cloud. But… the other major events themes were:
Increased research and dev time for long distance collaboration tools such as Microsoft Teams and Viva, with the aim of supporting WFH and hybrid working models.
Ongoing investment in Microsoft security products (especially in the cloud) like Defender or the still fairly new Microsoft Entra products.
'The Age of AI' as dubbed by CEO Satya Nadella, with a huge focus on Azure's AI capabilities to harness data for practical purposes.
Moving away from products however, some of the biggest buzz this year focussed on the fact that this was Microsoft's first major event since the announcement they'd be retiring the Microsoft Partner Network (MPN) this coming October and replacing it with their new Microsoft Cloud Partner Program (MCPP).
The MCPP has been created to distinguish partners according to their proficiency in six discrete areas:
Data And AI (Azure AI Capabilities)
Azure Infrastructure
Digital innovation and App innovation (within Azure)
Business applications
The Modern Workplace
Cybersecurity
Current word is that Microsoft are picturing these proficiencies as being aligned with specific customer sale targets.
Nick Parker, head of Microsoft Global Partner Solutions, described this concept during Inspire, likening it to a house: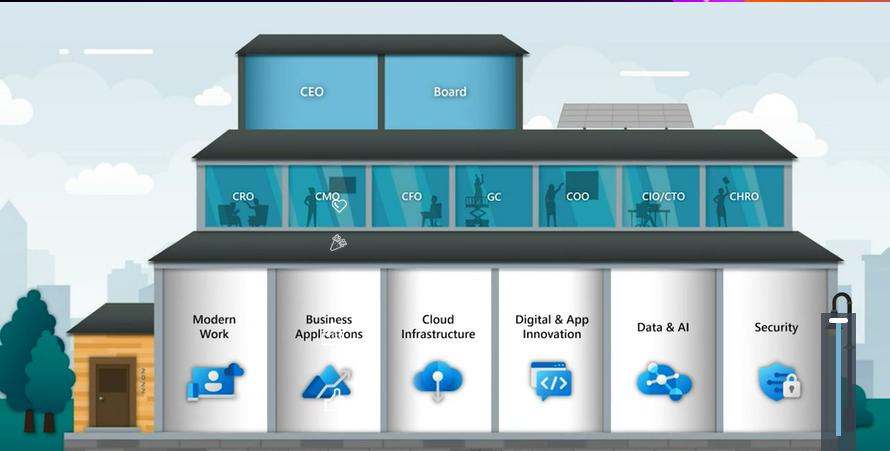 Another surprising focus from Inspire '22 was how much attention Microsoft placed on Industry sectors.
Whilst they've always verticalised their products to a certain extent (Tech for Impact etc), this was the first year that six sector specific cloud offerings offered (albeit, all at different stages of completion):
Financial Services
Healthcare
Manufacturing
Retail
NonProfit
Sustainability
Julie Sandford, Microsoft's Vice President of Go-to-Market Strategy & Programs described the new cloud offerings as a 'vertical expression' of the Microsoft cloud.
It became clear over the various speakers that Microsoft will be encouraging their partners to tailor their offerings to these specific cloud offerings. In sectors that best suit them.
That's not a new drive for Microsoft, who have been encouraging partners to verticalise for years. The shift this year is in their tone, making sector specific goals a lot more explicit with additional incentives in the new MCPP for any partners focussing on the six new cloud platform sectors.
Whilst the above was the major 'thrust' of Microsoft Inspire '22, other news that came from the event included:
Microsoft Cloud for Sovereignty: Helping Central Governments meet ever evolving requirements. Microsoft Cloud for Sovereignty has been released to help the public sector meet compliance, security and policy needs whilst processing all data and workloads within the cloud.
A database partnership between Microsoft and Oracle: The new partnership will offer tighter integration for Azure customers leveraging Oracles database services.
An Intelligent Contact Centre Platform: Currently named the Microsoft Digital Contact Centre Platform, this announcement sees Microsoft moving into the Contact centre space with a dedicated offering that incorporates all the AI technology from their $19B acquisition of Nuance Communications Inc in March.
All-In-One Security Solutions: High on Microsoft's list of enterprise level priorities is the reduction in tool sprawl for cybersecurity.
Project Orland Reaches The Public Preview Stage: Whilst only mentioned briefly, Project Orland has reached the public preview stage and should become fully available come October. This will be an AI-based customer lifecycle management tool aimed at their Cloud Solution Providers (CSP's).
Related Articles
You might also be interested in
Have a question?
Leave your details and a member of the team will be in touch to help.