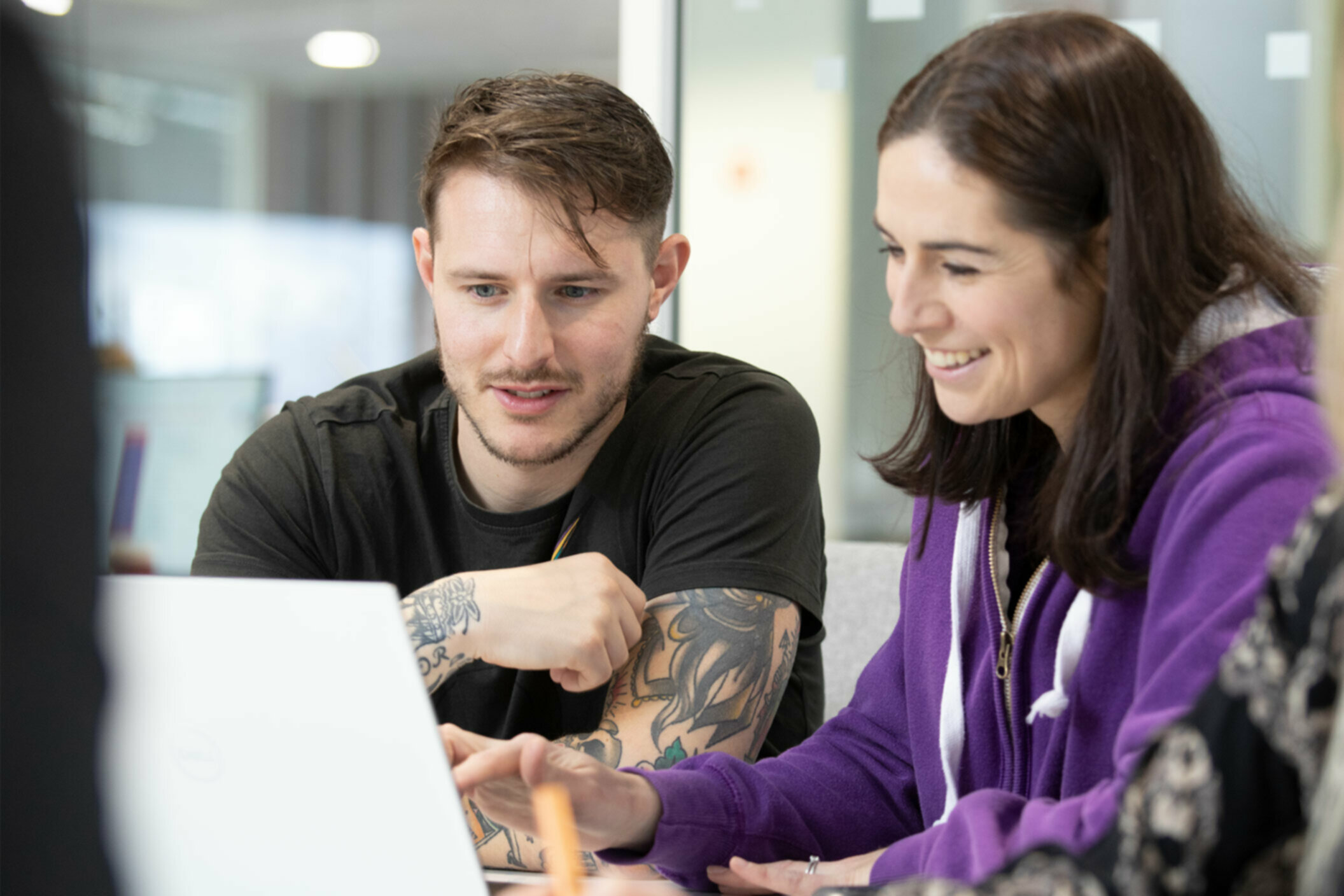 How To Get Better At: Online Continuous Personal Development (CPD)
James Crossland
Digital Marketing Manager|Kerv digital
Published 06/07/22 under:
CPD doesn't have to involve expensive locations, trainers and time away from the office anymore
Online CPD (Continual Personal Development) is becoming one of the (and in fact during 2020 was probably 'the') most popular method for tutors.
Certainly it's become the go to standard for continuous personal development training, both remote and not.
Online learning isn't a new concept by any means but over the years the technology behind eLearning has continued to improve to the point where its critics have mostly fallen silent and it's become the de facto 'go to' for most membership organisations running CPD courses.
Busy professionals with limited time available, many of whom are mandated to carry out CPD courses throughout their career are looking for the flexibility that online CPD offers whilst organisations running the courses want to benefit from the efficiencies and cost savings that it makes possible.
What is Continuous Professional Development?
For anyone reading this not sure what CPD stands for, it's Continued Personal Development, but much more importantly… what is it?
CPD is more than a set of initials or a clever anacronym. It's a principle or a commitment either by yourself or an employer to your ongoing career and future professional development.
Historically CPD training would take the form of seminars, lectures, classes, talks or self-study. These days however it's much more likely to be a webinar or online training course.
Either way, CPD is there to train, update and expand on either a key or generic set of skills a professional needs for their day to day role.
It could be practical skills or a more theoretical refresh of existing skills and may or may not be mandated as part of their career path.
It's how individuals in ever advancing fields (like medicine perhaps) can stay relevant; keeping up to date with the latest advances but it's also a great way for others to progress in their careers, learning new skills as they work.
Why is Online CPD Needed?
Long before the world's current woes with COVID-19, online CPD training courses had become the preferred method for providers and professionals alike.
For providers there are massive cost benefits involved whilst the professionals taking the CPD benefit from the convenience of being able to take the course or exam wherever they like.
If an organisation requires their staff to carry out CPD then realistically they have two choices. They can either have it carried out in-house or contract it out to external agencies.
In-house means they'll need permanent members of staff on the payroll that can conduct this training, either as their main function or as an extra to their day-to-day duties.
Having full time members of staff to conduct this training means a big increase in staffing costs whilst assigning it to someone else, likely in your HR department if you don't have a full time trainer, means pulling people from their regular tasks.
Outsourcing it however can be even more expensive, with agency fees, staff time lost from travelling to the courses, up front exam costs etc.
On the other side of the aisle, the providers that conduct CPD training have staffing costs for tutors to pay themselves, the hiring out of venues, travel expenses and dozens of other ancillary costs that quickly all mount up.
There's pros and cons to all these situations but the point is, having the ability to do many of these things virtually or remotely will mitigate a lot, if not all of them.
Types of CPD
When discussing CPD training, either online or in-person, it's worth noting that there's two very distinct types… Mandated CPD and what we'll refer to as 'General Improvement'.
MANDATED CONTINUOUS PROFESSIONAL DEVELOPMENT
As already mentioned, many professions require ongoing mandated training to make sure individuals are kept up to date with the latest advances in their chosen field. It's expected of almost all professionals considered to be working in a 'professional sector'.
The CPD (and resulting certification) is usually governed by a sector specific regulatory body who'll define the scope and requirements of the CPD (as opposed to an employer).
These bodies could represent sectors as diverse as healthcare, the law or accountancy right through to architecture or journalism.
Anyone in a regulated sector will most likely need to track and progress their own CPD requirements to maintain either/or their license to practice or their professional qualifications. An individual's employer may help with these, supporting them with paid time off to complete the training (or even paying for the CPD themselves) but this isn't always the case; within these sectors, the onus is very much on the individual to source and maintain their own CPD requirements.
The regulatory bodies in charge of these qualifications will be responsible for maintaining their industry's reputation with the public so will take their duties very seriously, making sure their members are fully up to date and taking measures to ensure fairness in the process such as paying for exam proctoring to prevent any hint of foul play.
GENERAL IMPROVEMENT CONTINUOUS PROFESSIONAL DEVELOPMENT
The other type of CPD is perhaps a lot more common but often goes by a variety of alternate names. This is the kind that tends to be run by employers rather than regulatory bodies and is designed to help improve their staffs knowledge/training.
It's not a 'mandated' part of their career path or required by law, instead the employer does it to keep their staff informed around issues or events that may affect the sector, the company as a whole or their job role specifically.
This type of training could be anything from a refresher course in a warehouse on how to correctly lift to how to prevent phishing scams in an office setting.
What Does Good Online CPD Look Like?
So the world's heading towards online CPD and we're all agreed that's a good thing, but what does/will 'good' online CPD look like though?
It's a big question, with no 'right' answer… except Kerv Digital are going to answer it anyway (of course).
The first and most important thing is to ensure that any CPD training that's conducted, whether it be mandated or just general improvement, be part of a structured, long term plan that improves the individual's knowledge and empowers them to excel in their role rather than a tick box exercise.
Research conducted on the effectiveness of CPD training consistently shows that it's most effective when it's sustained, consistent and everyone involved understands its benefits.
CPD is only really at its most effective when it's fully relevant to the individual.
If you're planning on running CPD sessions for large groups, then it's worth considering breaking them up into smaller units with tailored content that best addresses their interests and/or skill levels.
The first step is in considering how you'll conduct the CPD online.
Virtual lessons are perhaps the quickest route, putting several students on a Microsoft Teams call in front of a teacher. This approach is basically a replication of the classroom environment but with the added benefit of remote access.
This makes everything a lot more convenient for everyone involved but adds little to the experience (with many arguing it may even detract from it) although it does mean that most course materials such as textbooks or handouts can be offered to the trainee free online, which is a huge benefit to individuals on a budget or to organisations paying for their staff.
So how can technology be used to make online CPD's 'better' or more efficient rather than just empowering remote access?
The name of the game here is automation!
Many of the processes around CPD can be automated with many new improvements being added too.
Record Your Sessions: Probably the quickest 'win' to save time/resources/costs is to record your training sessions. If it's a subject that gets repeated a lot, rather than conducting a new session every time you can record it once and let people watch it as and when needed.
This type of action is most useful for low level training for subjects like 'how to correctly lift' etc that won't require a lot of follow up questions and can be shown as and when required.
For more in-depth subjects these videos could be used as an additional follow up resource after a 'live' session.
CPD Reminders: Whether a CPD course is mandated or just part of an organisations regular training schedule, the ability to track who's done what, what's outstanding and what scores were achieved with automated reminders being sent out is an invaluable time saver.
Competency Gap Analysis: Moving past the more obvious, a great way of using tech to improve the online CPD experience is through competency gap analyses.
Right off the bat you can have people complete an in-depth self-analysis questionnaire to find out which areas of training they might benefit the most from. The self-analysis can be made as contextual as you like, assigning 'scores' and setting goals for each individual which will then generate automated learning paths for them with links to suggested training materials such as blogs, YouTube videos, per reviewed platforms, previously recorded sessions etc. With access to the learner and trainers calendar it can even schedule in automatic 1-2-1 sessions to review what progress has/hasn't been made.
Members Requests: An additional benefit to the above is that it's very easy to run off a report as to which areas individuals struggle most with so additional content can be created to fill that gap. The self-analysis reports can also be monitored to see what areas of training people most request, which can then be folded into an organisations ongoing CPD strategy.
It is provided by people with the necessary experience, expertise and skills. These providers may sometimes be colleagues and peers. At other times they may be specialists from inside or outside the school.
It is based on the best available evidence about teaching and learning. The evidence needs to include current research and inspection evidence. Research shows that pupils learn best when staff are motivated, developed and updated.
Benefits To Online CPD Training
As we've already touched upon, the advantages tech can bring to CPD training (not the least by offering it online) are numerous.
Online CPD means the both the trainer and trainee can see the results of tests in real time and respond to them accordingly with follow up actions, grades and certificates can be accessed instantly, the course can be optimised much more efficiently with real time feedback backed up by powerful analytics to create feedback loops in the training to both improve the course and empower the individuals taking it.
PROS OF ONLINE CPD
It's cost effective
It's flexible
There's less pressure on the individuals, who are able to go at their own pace
It's more accessible for everyone, from shift workers unable to attend in person sessions through to the hearing impaired or those with mobility issues.
It allows membership organisations to target individuals outside of their normal catchment area… perhaps even expanding their audience to global scale.
CONS OF ONLINE CPD
As already mentioned, if pre-recorded material is being used, it can take time to get answers to specific questions/problems
Practical training such as CPR is much harder/impossible to deliver remotely
All participants, both the trainers and trainees need a comfortable working knowledge of computers and a strong internet connection.
Finishing up, Online CPD is here to stay and in the coming years those that improve it with AI and machine learning are going to become their industry leaders.
It's benefits, to employers, employees and membership organisations should be clear.
For membership organisations and employers CPD helps them share knowledge by keeping their members or staff informed with sector updates whilst ensuring the highest level of professional standards are maintained.
For the individuals taking the CPD's the benefit is to their careers or future aspirations.
Anyone looking to advance within their sector is hugely benefited by showing a commitment to improving their knowledge and skill sets or, put another way… CPD training is a great way to achieve a higher salary!
Related Articles
You might also be interested in
Have a question?
Leave your details and a member of the team will be in touch to help.