9 Awesome Benefits To The Microsoft Dataverse
James Crossland
Digital Marketing Manager|Kerv digital
Published 06/07/22 under:
How can the Microsoft Dataverse benefit your organisation?
Data.
It's such a small word but it's literally at the heart of everything we do isn't it?
It doesn't matter if you're a Nonprofit, run a Membership Organisation, are a titan of industry or head up a department in the Civil Service… you won't be able to do what you do without reliable data.
More important than just 'having' data though is the ability to use it. To capture and collect it in a timely, secure fashion and to be able to analyse it in real time to inform business critical decision making.
Having data always has to be a means to an end, not the end itself.
However…
Building a modern data infrastructure from scratch, that's capable of performing all the above functions, whilst still being agile enough to adapt to unexpected future developments isn't easy.
That's because data in the modern world bombards an organisation from a multitude of different directions, in a plethora of different formats, from so many different sources that it's not even worth trying to count… and yet, from all that, we still need to derive useful Business Intelligence somehow.
Don't misunderstand us.
It can be done… but it'll be difficult to source the developers and expensive to complete, as whoever you find will need to have an in-depth understanding deploying, configuring, managing and integrating all those disparate data technologies to make use of the structured and unstructured data you hold.
As depressing as that all sounds though, there is an easy solution and, as you've already seen the title of this article we're betting you've already guessed it…
The Microsoft Dataverse.
What Is Microsoft Dataverse?
The Dataverse was created by Microsoft to address all the above issues with a simple, end-to-end, compliant, secure, scalable and globally available SaaS data service.
It's there to empower organisations to work with any and all types of data, no matter what the format or source, to garner real time, and most importantly, useful, business intelligence.
The Microsoft Dataverse is part of the PowerPlatform which means that an organisation needs to write almost no code (in many cases no code at all) to install it begin benefiting from it.
What Does The Microsoft Dataverse Do?
Microsoft have specifically designed the Dataverse to be able to work with any and all types of data, incorporating all the major data technologies (rational, non-rational, file, image, search, data lake etc).
To make using these integrations as easy as possible, Dataverse has a set of inbuilt visual designers that allow a user to create, edit and interact with their data, making it a simple process to scope out and define the tables, relationships, business rules and processes, forms and workflows that all come together to represent your business.
The Dataverse's integration features have been 'built-in' to such an extent that it's child's-play to apply them to other cloud-based services such as Azure, Microsoft 365 and D365, including the Power Platform, plus numerus other connectors through Power Automate and Azure Logic Apps.
Due to those integrations, a wide-ranging list of enterprise level scenarios become ridiculously simple to achieve, from retrieving sensitive data stored on spreadsheets in an email attachment right through to creating blockchain networks… all with almost no code required (or often no code at all).
Implementing them also becomes a doddle. Projects that might previously have required days or weeks can now be done in hours or even minutes, and often by staff with no previous coding experience.
As well as all that though, Microsoft's Dataverse also supports Virtual Tables.
A virtual table will allow an organisation to map their data in an external source so that it looks like it exists in the Dataverse.
That means, once configured, the Dataverse is capable of executing real-time data operations against an external data source.
Benefits Of The Microsoft Dataverse
So… on to the benefits of the Dataverse we promised you in the title. How can the Dataverse benefit your organisation?
THE MICROSOFT DATAVERSE MAKES EVERYTHING EASY
Anyone that's ever had to try and create a common data storage solution with data flowing in from a multitude of different systems and applications will know how complicated things can get, extremely quickly!
Getting that solution is vital for the streamlining of development and empowering faster analytics… but it isn't always fun.
If the data you're working with isn't capable of being easily shared then every development project, every improvement to a system, every application you create will need its own custom integrations to be implemented. That eats up a huge amount of time, costs money and will need to be repeated time and time again.
Using The Microsoft Dataverse, alongside the Common Data Model, just simplifies all that.
The Dataverse will give anyone using it a shared data store and language that all their business and analytical apps can use.
That sharing means all your data and applications interoperability can sit across multiple channels, service implementations and vendors… making yours (or your poor old developers' life) infinitely easier.
STRUCTURAL AND SEMANTIC CONSISTENCY OF DATA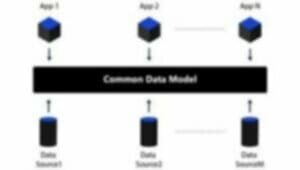 With the Dataverse comes the Common Data Model, providing a common language for business tables, covering the full range business processes and systems.
By using the Common Data Model all an organisations data will share a structural and semantic consistency, making it much easier to work with.
THE DISSEMINATION OF DATA
Once your data all shares a common and consistent form, disseminating it out to where it's needed becomes much easier, allowing for deeper, more useful, and most importantly, real time, Business Intelligence.
Simplified integration and disambiguation of data that's collected from processes, digital interactions, product telemetry, people interactions, and so on.
IT'S EASY TO MANAGE
We've already discussed extensively how easy it is to integrate the Dataverse, with little or no coding ability required, but it's also worth pointing out how easy it is to manage once it's been set up. Too often an expensive solution is set up by a third party for an organisation, only for them to find out they're now locked-in to using them to keep it running… that's not the case with the Dataverse.
THE DATAVERSE MAKES YOUR DATA SECURE
The Dataverse, by default, will secure data securely, only allowing users to see it if they're granted access.
That role-based security allows admins withing the organisation to set permissions at whatever level they like for individual users at the click of a button.
IT INTEGRATES WITH DYNAMICS 365
Again, as a default, all of an organisations D365 data will get stored in the Microsoft Dataverse which will allow your users to build apps that benefit from your Dynamics data and/or extend them using Power Apps.
IT ALLOWS FOR DEEPER INSIGHTS
Once integrated the Dataverse can pull data from Power BI to create and publish reports that will provide insights and touchpoints that you may not have previously been aware of.
IT'S INFINITELY EXTENSIBLE
The schema behind the Common Data Model can easily be adapted and/or extended so that it can be used alongside the standard schema to fulfil any business function that might be unique to your organisation.
IT EMPOWERS INTEROPERABILITY
It's a rare app that won't pull data from multiple sources.
As we've already mentioned, a developer can integrate an app's data per project, customising it every time at the application level but it's much easier integrating it into a common store with a single set of logic to look after.
The Dataverse does that for you automatically.
You can use the store in Power apps, Power Automate and Power BI along with all of your other D365 data with ease.
Another benefit of that is if you want to use data that's currently in the wrong format. If you import the data via Power Query it'll automatically transform it into a useable format for you.
THE DATAVERSE PROVIDES CONSISTENCY
Finally, and perhaps most importantly, the Dataverse will provide consistency to your data, your apps and your business process.
Data within the Dataverse is stored in a set of tables. By defining a set of over two hundred different, standard business tables that over typical business scenarios, the Common Data Model has made it incredibly easy to build apps for any and all business requirements.
By using that model all apps you create or third party apps you sue will be consistent in how they operate, reliable and secure.
Related Articles
You might also be interested in
Have a question?
Leave your details and a member of the team will be in touch to help.